Football News & Bargains
---
The latest news is that Jim Kelly will re-enter the NFL as the Baltimore Ravens Starting QB...this would prove very interesting.
His cards are also sure to make a resurgence.
---
March's Players!!!
10. Jake Plummer
9. Eddie George
8. Emmitt Smith
7. Jim Kelly
6. Danny Wuerffel
5. Barry Sanders
4. Brett Farve
3. Warrick Dunn
2. John Elway
---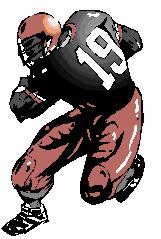 Vote Here For Your Favorite Player to be included on March's Hot List!!!
---
Football Bargains!!
1997 Proline Gems CR1 (Farve ring w/ Diamond) $100.00
1997 Upper Deck Star Crossed Farve $20.00
1997 Topps Chrome Marino Air Command Refractor $50.00
1997 Topps Chrome Underclassman K. Abdul-Jabbar Refractor
$30.00
1997 Donruss Terrell Davis Press Proof $20.00
1997 Donruss Rated Rookie Warrick Dunn $10.00
1997 Fleer Thrill Seekers Farve $75.00
1997 Skybox Rookie Preview Warrick Dunn $5.00
---

Krafts Collecting Korner Home Page

Send Want List